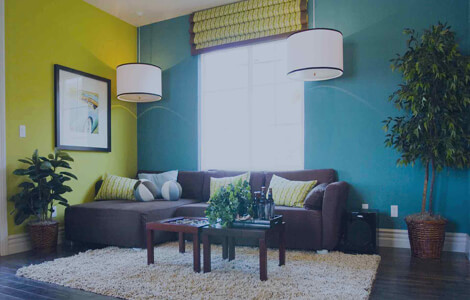 The Best Experience for Residents
DMCI Homes residential communities are built to contain only a limited number of housing units. Here's the real kicker: all DMCI Homes communities are exclusive. You do not only get to live in a mid-rise condo (or in other cases, a subdivision), but you'll have corridors which open up to garden spaces or atriums instead of a neighboring door. Experience beauty with the unobstructed entry of natural lighting and constant ventilation. As a medium-density development community, be assured that you and your family will have privacy. Isn't that great? And, every DMCI Homes community has been designed to maintain a 60:40 footprint-to-building space ratio. What does that mean? More gardens, more open areas.

The floor plans are expected to be efficient. The structures are of the best quality, because world-class construction techniques are applied in the development of every DMCI Homes project. This is all because DMCI, the mother company of DMCI Homes, has an impressive 50-year track record in the construction industry. DMCI Homes also provides a one-year quality warranty that covers repairs, free of charge, on any defects in the workmanship of your unit.

Not only that, but you and your family will be assured of safety with a 24-hour security service, a gated entrance, and a perimeter fence. For everyday living, you'll be happy to know that there are overhead water tanks, deep wells, and underground cisterns for your water and plumbing concerns. How about your laundry? Well, there's an individual drying area at the roof deck. We almost forgot! You'll have provision for CATV and telephone lines. Tired from your daily drive? Don't worry. There's also a covered bridge way connecting the residential building to the car park. Rain or shine, you'll always be covered. Talk about perks!

If you're concerned about aesthetics, you can choose from distinctively designed conceptual homes. Pick among first-class designed communities that range from Asian, Mediterranean, to Modern Contemporary styled communities.

Award-Winning Global Standards
DMCI Homes has the expertise to make dreams happen. We're not surprised that DMCI Homes has had multiple awards! DMCI Homes has been awarded with the Readers' Digest Trusted Brand Gold from 2011 to 2016. It's also an awardee of the BCI Asia Top 10 Developers. One of its developments, Arista Place, has been awarded the Urban Land Institute Healthy Places Award. These are just some of the awards DMCI Homes has gained. Talk about global standards!
But we're not quite done yet. Our partners are Philips, EC Gas, PLDT Home, Nestle, Unilever, the Philippine Green Building Council, and BPI Family Savings Bank. So, you and your family shouldn't worry about the best possible living amenities!

Where We're Located
Perhaps you wouldn't like to move away from Northern Metro Manila, where universities and government offices are. Our mid-rise condos are Accolade Place (our Asian boutique condo for resort living) and The Redwoods (also resort-themed). Our high-rises are One Castilla Place (our Modern Minimalist-themed enclave), The Celandine (with a single tower), and The Amaryllis (a one-tower, resort-themed property).

Looking for serenity in Makati? There's Brio Tower (along the main thoroughfare of Makati and EDSA, resort-themed for suburban living), a high-rise condominium for you, with or without a family. Brio tower is DMCI Homes' first ever Makati project. If you're in Taguig, you might be able to consider another high-rise, Cypress Towers (with three towers nestled in prime land along C5). If you have a family, why not try Cedar Crest (with a gym, basketball court, function hall, and clubhouse) or Verawood Residences (a Polynesian inspired resort-style community), both mid-rise condos? If you're in Pasig, you can opt for Levina Place (DMCI Homes' Asian Boutique concept-themed residences), East Raya Gardens (a 2.9 hectare, Balinese-inspired community), or our newest development, Brixton Place (a two-tower vertical community in Kapitolyo). Not too far away in Mandaluyong are three high-rise condominiums: Flair Towers (developed with Lumiventt design technology for urban families), Tivoli Garden Residences (with lush Asian tropical gardens and patios), and Dansalan Gardens Condominiums (an 8000 sqm-property with open spaces and greenery).

If you're located in Manila, Illumina Residences Manila (32-storey high-rise with T-shaped architecture) and Sorrel Residences (a one-tower high rise with commanding skyline views and resort-style amenities) might be for you. If you live in the bustling southern Metro Manila area, look no further. We have Arista Place (Asian tropical-themed condominium community), Oak Harbor Residences (the only waterfront community in Bay City), Calathea Place (with a lap and lounge pool, a fitness gym, a sky patio with Lumiventt Technology, and landscaped gardens), and Siena Park Residences (a medium-density condominium village)—all mid-rise properties in Parañaque City. If you'd like to live freely in high-rises, Raya Garden Condominiums (a Balinese inspired property) has both high-rise and mid-rise options. Would you like to live in Pasay? We have La Verti Residences (a two-tower high-rise located in between Makati and Pasay) and Fairway Terraces (an exclusive rustic, relaxing, resort-inspired condo). Perhaps you'd like living in Muntinlupa. Rhapsody Residences (Neo Asian-themed, resort-inspired residential condominium village) are mid-rise condos located there. How about Las Piñas? There's Maricielo Villas (with Spanish Mission-inspired architecture) waiting for you.

We don't only think about the hub of Metro Manila. We also have properties in Davao: Verdon Parc (for cosmopolitan, resort-style living), catering for both mid-rise and high-rise condo clients. In Baguio, we have Outlook Ridge Residences (a leisure residential development) ready for occupancy. Cavite has Alea Residences (a four-building medium-rise in Bacoor), a mid-rise condo property. In Laguna, we even have Willow Park Homes, a subdivision with an open lawn and picnic grove, a lap pool, a clubhouse, and a playground.

Getting Your Dream Home
Everything begins with a dream: dreaming to live closer to home, dreaming of a second home that fits your lifestyle, dreaming of a family home where you and your family can live comfortably. Start thinking of what you need, then balance it out with what you want to come up with the perfect picture of your dream home. Figured it out yet? You can use the DMCI Homes site to compare and contrast properties. You can even opt to look at our promotional material from our friendly sales agents.

Our properties are a vision of your dream. We have crafted each community with expertise. We refine every detail. We see to it that your dream home can be real. It all begins with reserving your property. Start by filling in forms like the Client Registration form that will be provided your Property Consultant. The Property Consultant will prepare a detailed Computation Sheet with a payment scheme applicable for your home purchase. Lastly, you will be requested to sign the Reservation Agreement, followed by settling your Reservation Fee.

Next, you'll be choosing the payment scheme you'll want to avail. Would it be cash, in-house financing, or external financing? These can be discussed to you by your accredited Agent.
Looking for the final step? It's all about the documentary requirements. You can look for more information on the DMCI Homes website.

DMCI Homes wants to assure you of quality, even after you've moved in to your new space. Composed of seasoned professionals, a Property Management Group will handle the upkeep of our developments as well as your everyday concerns. You'll have an initial orientation upon turnover for condominium living. You will also be assisted when it comes to utilities like the telephone and electricity. You won't have to go to, say, PLDT or Meralco brances! The Group will also handle maintenance and assistance with works such as the installation of air-conditioning and curtains, as well as dealing with clogged drains. You won't have to deal with the hassles of plumbing. You'll be informed about the units and the important areas within the development, and there should be no trouble with transactions concerning the developer and following up your documents!

Expect turnover within six to twelve months! Our units are ready for occupancy and move-in. If you'd like to move into your unit and immediately enjoy the privileges of living in a DMCI Homes residential community, you can avail of a 20% down payment for a mid-rise. A 30% down payment will be available for a high-rise, however. Without the long wait, you can be sure that you'll take pleasure in a resort living ambience right within your own backyard. You can even realize your condo unit's earning potential sooner than you expected.

You'll be receiving a DMCI Homes Homeowners kit upon turnover. You'll be getting a "Feels Real Good to Know" flyer which will serve as your handbook to FAQs and concerns about your new community. For instance, what about the Association Dues? The Real Estate Property Tax? Will there be other assessments and other fees? How should I trust the quality of my unit? All these and more will be answered in your kit.

The DMCI Homes Experience
Whether you're busy with work or busy with both work and family, you'll be getting your cocoon of good living in no time. From Asian-inspired themes to modern contemporary to Spanish Mission-styled homes, we've got you covered. With our experience and our history, you'll be getting your dream home soon.